As a parent, choosing the right school shoes is a difficult annual chore! The last thing you need to worry about is children complaining about sore feet, or finding the school shoes you brought at some great expense in September, barely get you through to the new year before they are worn out or don't fit! If you don't select the right shoe and have them fitted correctly, you may just waste time and money before having to replace them!
I've put together my top tips to help your children start the new school year in comfort!
Regularly measure growing feet
Children's feet are always changing. You can go into children's footwear specialists such as Clarks, Jones the Bootmaker and Charles Clinkard who are trained in measuring children's feet. Even if you choose not to purchase through these companies, it is best to get them to measure, to give you a benchmark. Make sure you get both feet measured you're your child wears socks similar to those they wear to school when measuring and trying on shoes.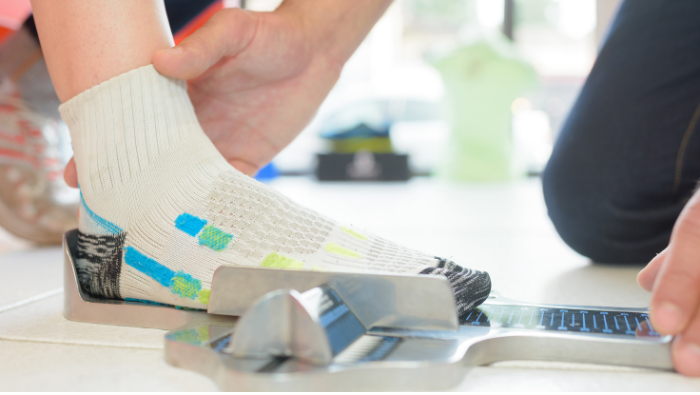 Have shoes fitted by someone with knowledge and experience
Locally I recommend Charles Clinkard for knowledge and experience with measuring and fitting children's shoes. My daughter has "funny feet" which means we have always struggled to get shoes to fit correctly. I have tried many shoe shops and bar far, Charles Clinkard excel in the correct fitting of shoes. It is worth noting that there is lots of information on the internet about measuring and fitting shoes for children so if you are thinking of buying shoes from alternative shops which do not offer this service, then consider reading up before you fit your child's shoes. Shops such as Charles Clinkard and Clarkes often offer a 6-week guarantee – so if you have them fitted by their advisors and the shoes cause fitting issues or pain in the 1st 6 weeks then they will often replace free of charge.
Laces or velcro is best
Its is best to choose shoes with laces, Velcro or a T bar as this will hold the child feet in a better position allowing the foot to function and grow correctly. Avoid slip-on shoes if possible because there is no support or stability for growing feet.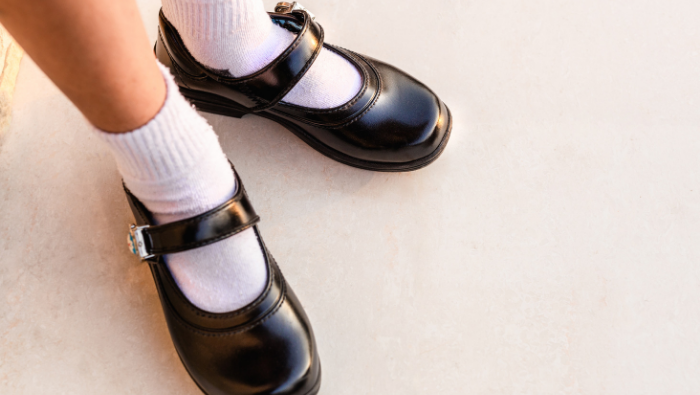 Material
Consider the material of the shoe. Your child will be wearing these shoes between 35-50 hours a week! Children's feet are often very sweaty! Choosing a material which allows your feet to breath is best to prevent problem such as ingrowing toenails, athletes foot and verrucae, so try to find shoes may of genuine leather.
Sole
Ensure shoes have a cushioned thick sole with a good grip. This will allow good shock absorption for all the running as well as adding some non-slip!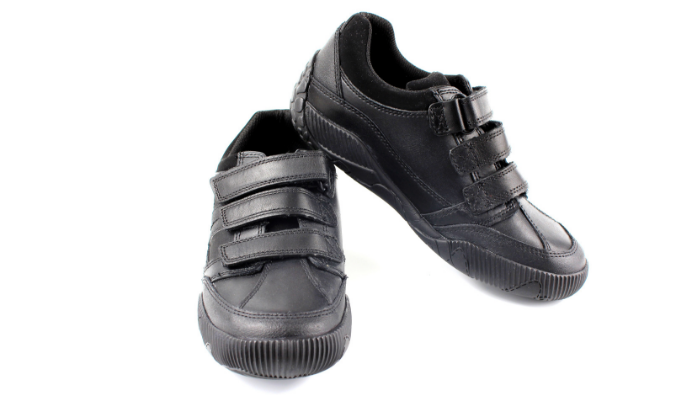 Shoes should feel comfortable straight away
Many people suggest we should "wear shoes in". This isn't actually true. Shoes should feel comfortable straight away. If they aren't try your child with a different make or style.
Added extras
Don't forget some schools do not allow flashing light up shoes, so check that function can be turned off if needed. Its also worth investing in some polish/paint restorer as I can guarantee they will come back scuffed on day 1!
Good Luck fighting the ques to get your children fitted for their school shoes this year, might see some of you when I'm battling with my eldest!
If you need any advice, please do feel free to contact us.