About Louise
Hi, I am Louise, Director of West Berkshire Foot Clinic and specialist Podiatrist.
I have always wanted to be a Health Care Professional and I thrive on getting to know my patients and relieving their foot pain. I love the feeling when my patients say they feel like they are walking on air when they leave the clinic with a smile on their face!
I was raised with my younger sister in a small village outside Henley-on-Thames where my parents still live. I met my lovely, supportive husband Ed when I was 16, before my career in Podiatry had even started! I trained at The University of Southampton and spent many years in the NHS as a diabetes specialist podiatrist. I have worked for 2 private clinics in Reading and Basingstoke most recently opening my own practice in West Berkshire Foot Clinic in 2018.
Ed and I live locally with our two gorgeous children. My family and friends are very important to me, so when I am not working you will probably find me exploring the lovely countryside, participating in games of pooh sticks with the children and enjoying family life. I am an active part of Amelia's school as co-chair of the PTFA and on the committee for James' pre-school. If I am not fundraising for the schools I am often found baking for the various cake sales or birthdays!
I decided to open West Berkshire Foot Clinic in March 2018 after realising the need for podiatry care in the area. After 5 months of extensive planning and sleepless nights West Berkshire Foot Clinic opened on 6th September 2018 and I can't wait to welcome people to the fantastic clinic we have in the Thatcham area and to addressing all of your footcare needs.
About Joli
Hi, I am Joli, I have recently qualified as a Podiatrist with an interest in diabetes. Keeping people on their feet, whether that is walking their dog or running a marathon is my passion.
I was born and bred in Sevenoaks, Kent, where my family still lives. My husband and I, along with our two teenage daughters moved to a village outside Newbury 10 years ago and love the community we live in. We are lucky to live on the Ridgeway where we regularly take our two dogs.
I graduated from The University of Southampton in June 2020 after returning to education as a mature student. I have remained at the university to continue my studies with a Masters in Diabetes Best Practice.
I have life experiences in several areas, including being a parent of two, a beaver scout leader, and Chairperson, and then Treasurer for 4 years in my daughters' school's PTA. Although my previous work experience is not in the healthcare field, I have worked in customer care, retail, management, and younger years education.
In my spare time, I like to indulge in murder mystery books and have been growing my own fruit and vegetables for the last 8 years. I love traveling with my husband George and daughters Alice and Grace to historical locations around the UK and abroad.
I am very excited to be joining Louise at West Berkshire Foot Clinic and looking forward to meeting your feet where I aim to have everyone leave the clinic walking on air.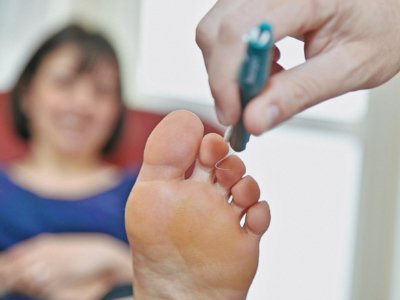 What is Podiatry?
I often get asked "what is a podiatrist and what is the difference between a podiatrist and a chiropodist?"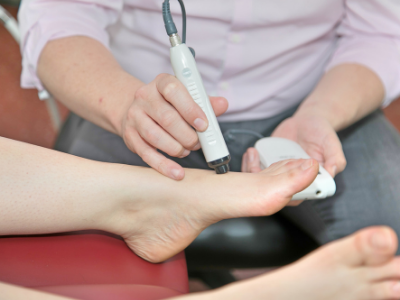 Conditions and Treatments
At West Berkshire Foot Clinic, we investigate the cause of the problem from which you are suffering – and then we treat it, using the latest in research-led treatments that provide the best success rates available.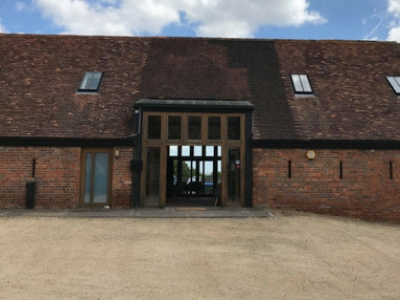 Contact Us
If you would like to book an appointment of wish to discuss this treatment further please contact us.