Updated: Monday 4th January 2021
As a medical profession, Podiatrists have been advised to remain open providing podiatry treatments. 
For those who have already been attending clinic since March, you will know we have high levels of infection control, wear full PPE and have strict covid-19 secure protocols in place to prevent the spread of the virus. We continue these high infection control standards and continue to screen everyone before attending appointments. The team receive lateral flow antigen tests twice a week and we have both had our first vaccination against Covid-19. Lateral flow antigen tests are used to detect active infection in asymptomatic people.
We understand this is a very anxious time for many and that many people may now be shielding again. If you wish to postpone your appointment we fully understand. Please do contact us if you wish to do this. You can do this by e mail or by calling the clinic on 01635 791301.
Finally, this will be a very difficult time for many. If you are homeschooling again (with or without the added juggle of work), feeling alone or isolated, We just wanted to say you aren't alone. Please do stay in touch. We will all help each other through this.
Keep well and keep safe.
What does a West Berkshire Foot appointment look like now?
To ensure we can socially distance, and to protect all our patients, families and staff; we have put a number of measures in place. Please check out the link and videos which explain the measures we have put in place for your safety. 
In Summary:
Please wait in your car until the time of your appointment. I will pop out to call you in.
Please wear a mask if you have one, otherwise we will provide you with a mask on arrival at the clinic
On arrival and exiting the building you will be asked to wash your hands
Please attend your appointment alone where possible
Louise will be wearing a face shield, mask, gloves and apron
We have additional infection control procedures in place
The waiting room will be out of use for the foreseeable future as it isn't possible to socially distance patients in it.
We are currently unable to offer tea and coffee
There will be a £3 temporary surcharge on all appointments to cover additional PPE
I thank you all for your support and understanding during this difficult time. I look forward to welcoming you all to the clinic soon.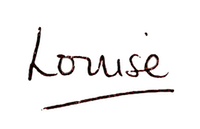 Here is what some of our patients are saying about us during these strange times:
"Louise is a friendly and caring person. It has been a pleasure to visit and be treated by her. The safety precautions in place at the moment makes for a reassuring visit. Thank you Louise for all your help" July 2020
"My husband and myself recently came to the clinic for our first podiatry appointment with Louise. We can thoroughly recommend her treatment and care. This was all done in a safe and welcoming environment. Thank you Louise for your care." – October 2020